Brixham, or Fish Town as it is known is a classic Devon fishing town with a historic harbour and world-famous fish market. For many visitors, including myself, the most iconic feature of Brixham is its colourful and quaint Fisherman's Cottages. These charming cottages were once home to the town's fishermen and their families, whose labour built the town's wealth.
Centuries later, Brixham's fisherman's cottages are still going strong, with many of them housing the town's current generation of established fishing families. Others have been lovingly restored and converted into holiday homes you can stay in. In this article, we explore the heritage and character of Brixham fisherman's cottages.
History of Fisherman's Cottages in Brixham
Brixham's steeped and storied fisherman's cottages are part of the rise of prominence of Brixham as one of the southwest's leading fishing ports. 
Origins of Brixham's Fishing Industry
This small fishing town in South Devon has a rich history of fishing that dates back to the 12th century. In 1196, William Brewer's foundation charter of Torre Abbey mentioned the practice of fishing with nets, indicating that this was an established practice throughout Torbay.
The town's advantageous coastal location and naturally sheltered aspect on the southwestern aspect of Torbay made it an ideal location for fishing, and it quickly became a noted harbour for the fishing industry.
During the 18th century, Brixham's role in the development of the fishing industry in England became even more significant, with the development of trawling by Brixham's, witty fishermen.
This catalyzed the growth of the Brixham fleet which in its strength included more than 200 boats with 90% of young men in the region willing and able to go to sea and earn to raise large Devon families. Today Brixham lands more than £60 million of fish each year! Now you can see how the town's fine cottages were built!
Development of Fisherman's Cottages
The growth of the fishing industry in Brixham led to an increase in the number of fishermen and their families who needed housing. As a result, fisherman's cottages began to be built in the town during the 17th and 18th centuries. These cottages were typically small, one or two-room dwellings that were constructed from locally sourced materials, such as stone and thatch.
As we see today, the fisherman's cottages in Brixham were in and around the harbour bowl, allowing fishermen to easily access their boats and the sea. The cottages were often built in rows, with shared walls and narrow alleyways between them that are great for getting about the town and down to the harbour quickly.
Over time, the fisherman's cottages in Brixham evolved to meet the changing needs of the fishing industry. In the 19th century, for example, many of the cottages were expanded to accommodate larger families and to provide space for the storing and repairing of fishing equipment. Today, many of the fisherman's cottages in Brixham have been preserved and restored, offering visitors a glimpse into the town's rich fishing history.
Features of Fisherman's Cottages in Brixham
Though it's not quite Balamory, the town's colourful terraces of fisherman's cottages are beautiful. Here are some of the features you'll find when you explore a Brixham fisherman's cottage.
Architecture and Design of Brixham Fishermen's Cottages
Fisherman's cottages in Brixham are typically built with local stone and have a distinctive design. They are often tall and narrow, with several floors and a steeply pitched roof. This can make them challenging to navigate even if you're young and fit. I have slipped on narrow winding steps heading to the third floor of one of these places, so be prepared!
Many of these cottages have been standing for centuries and have been carefully restored to preserve their original features. The cottages are often painted in bright colours, adding to the charm of the town. Locals know that the painting of the cottages was to encourage the seamen on their return home, making it easy for them to identify their home as they headed into port to land a catch!
The architecture and design of these cottages reflect the town's history as a fishing village. The narrow streets and alleys were designed to accommodate the fishermen and their carts, while the tall, narrow houses allowed for more living space in a small footprint. I often mention this to my husband, just how many people could stay in a Brixham cottage, if the owner allows 😉
Many of these cottages also have a small courtyard or garden, and outhouses for laundry and storage, providing delightfully private outdoor space in the heart of the town.
Interior Features
While the exterior of fisherman's cottages in Brixham may be traditional, the interiors have been updated to provide modern amenities and comfort. Many of these cottages have been renovated with open-plan living areas, allowing for more natural light and a spacious feel. The use of natural materials such as wood and stone gives the interiors a warm, welcoming feel.
Some of the common features of fisherman's cottages in Brixham include:
Exposed beams and stonework
Fireplaces or wood-burning stoves
Modern kitchens with high-quality appliances
Comfortable bedrooms with high-quality bedding
Bathrooms with modern fixtures and fittings
One of the things I love most about cottages in Brixham is the stunning views of the harbour and the sea, especially if you have a balcony or roof terrace! They provide a restorative retreat from the hustle and bustle of the town.
Living in a Fisherman's Cottage
Since 2020, people have been going mad for Brixham's Fisherman's Cottages. In 2021 and 2022, the work-from-home revolution meant that almost every Londoner was going to relocate to Brixham and live in a cottage. House prices, which were previously relatively reasonable began to soar with an eye-watering 25% uplift in the average house price in the town.
Having rented a Brixham cottage and returned to them for numerous stays over the years, I can certainly understand that the fisherman's cottages provide a unique and charming way of living that attracts many people. I think they are great for family life too. With Winkworth and other big fish eyeing up the Brixham property market, the cottages are like to remain highly sought-after properties that offer a glimpse into Brixham's rich history and culture.
Why are Brixham's Fisherman's Cottages soooo popular?
There are many advantages to living in a Fisherman's Cottage in Brixham. One of the main benefits is the location. Many of these cottages are situated in prime locations, with stunning views of the harbour and the sea. Residents can enjoy the hustle and bustle of the busy fishing town, with its colourful boats and lively atmosphere.
Another advantage is the character of the cottages themselves. These properties have a unique charm that is hard to find in modern homes. Many of them have original features such as exposed beams, stone walls, and fireplaces, which add to their character and appeal.
Living in a Fisherman's Cottage can also be an excellent investment opportunity. These properties are in high demand, and their value has been steadily increasing over the years. They are a good choice for anyone looking to invest in property in Brixham.
But there are challenges to living in a trad fisherman's cottage
While there are many advantages to living in a Fisherman's Cottage in Brixham, there are also some challenges. One of the main challenges is the size of the properties. These cottages were built in an era when people had fewer possessions, and as a result, they can be quite small. This has never been a problem for me but if you have loads of furnishings and clutter you could find it difficult to find storage space and an overly-filled cottage may feel cramped.
Another challenge is the maintenance of the properties. Many of these cottages are listed buildings, which means that they are protected by law. Beautiful examples include:
This can make it difficult to make changes to the properties, and any work that is done must be in keeping with the original character of the building. This can be expensive and time-consuming, but it is a labour of love for the right owner.
Finally, living in a Fisherman's Cottage can be noisy, especially if I'm next door! These properties are often situated in busy areas, and the sound of the harbour and the sea can be quite loud. This can be a problem for anyone who is sensitive to noise.
Buying or Renting a Fisherman's Cottage
Costs and Availability
Fisherman's cottages in Brixham are a popular choice for those looking for a charming and historic property in a picturesque location. The cost of buying or renting a fisherman's cottage in Brixham can vary depending on a number of factors, including the size of the property, its location, and its condition.
As of April 2023, there are several fisherman's cottages available for sale or rent in Brixham. Prices for a 2-3 bedroom cottage can range from £265,000 to £330,000. This is way more than pre-2020!
Renting a fisherman's cottage can cost between £750 and £1300 per month, depending on the size and location of the property.
It is important to note that fisherman's cottages in Brixham are in high demand, especially during the summer months. It is recommended to start your search early and be prepared to act quickly when you find a property that meets your needs.
Tips for Finding the Perfect Cottage
When searching for a fisherman's cottage in Brixham, it is important to consider your budget, location preferences, and the size and condition of the property. If you are thinking of relocating to Brixham, are a few tips to help you find the perfect cottage:
Do a winter-let in a holiday cottage to get a feel for what the real town is like after the tourist season. This is so important if you are determined to relocate. People are friendly and there is a lot going on so you'll make friends in no time at all!
Work with a reputable estate agent who has experience selling or renting fisherman's cottages in Brixham. Boyce, Absolute Sales and Lettings are good choices and OpenRent puts you directly in touch with prospective landlords.
Consider the location of the cottage, including its proximity to the harbour, town centre, and local amenities.
Think about the size and layout of the property, and whether it will meet your needs.
Consider the condition of the property, including any necessary repairs or renovations.
Be prepared to act quickly when you find a property that meets your needs, as fisherman's cottages in Brixham are in high demand.
By following these tips and working with a reputable estate agent, you can find the perfect fisherman's cottage in Brixham to call your own.
Fisherman's Cottages in Brixham: A Guide to the Best Accommodations
Brixham is one of the best destinations for self-catering accommodation. Prices are not exorbitant with loads of out-of-season bargains. Plus you have so much plentiful and cheap fresh fish, decent fruit and veg, and chilled locals who love their town!
I've created a comprehensive list of Brixham holiday cottages and self-catering accommodations. You can read this article here:
Here are some highlights of Brixham's fisherman's cottages that offer a wonderful stay for couples, families, groups, and pet owners!
Must-See Cottages
One of the most iconic Fisherman's Cottages in Brixham is Fisherman's Cottage, run by husband and wife Matthew and Rosie of Sampford House, which was built around 1770. It overlooks the bustling harbour of Brixham and offers uninterrupted views of Torbay and the sea. The cottage has been lovingly restored and sympathetically furnished to provide a comfortable and relaxing stay for visitors.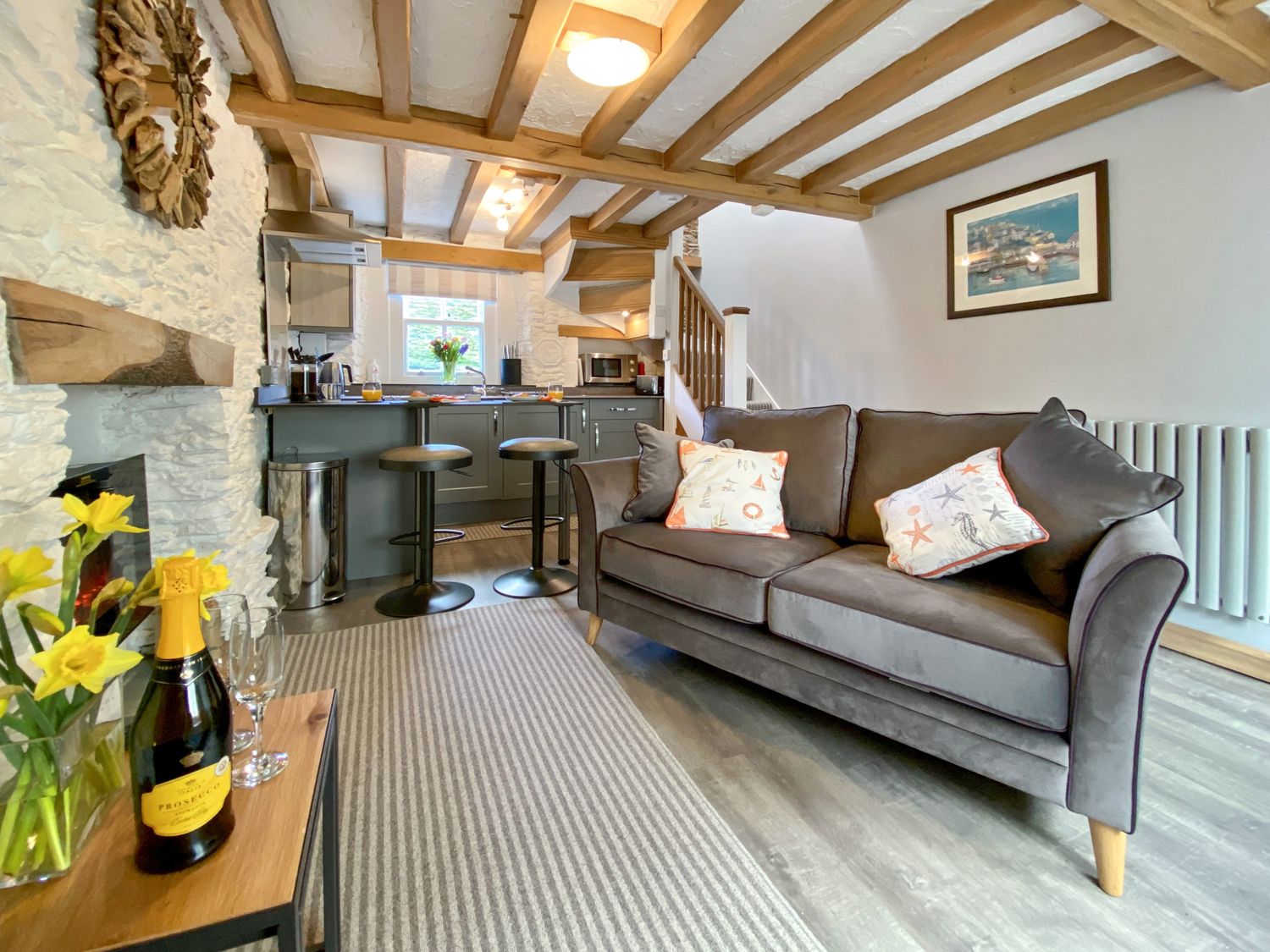 Another must-see cottage is the Quirky Plichard's Cottage which is located in the heart of Brixham's historic town. It has beautiful beams and a cosy interior. This cottage is full of character and is perfect for a couple who wants to experience the charm of Brixham's fishing heritage. The cottage is within walking distance of Brixham's many attractions and amenities.
One of the properties that has been a home-from-home in Brixham is the ever-delightful Palm Cottage on Higher Street. It has three stories, three bedrooms, two bathrooms, a lovingly restored kitchen and hot satisfying showers. It also has some lovely detailing like stained glass in the master bedroom. I love this place, the kids love it and the owners are very very responsive and helpful!
Hidden Gems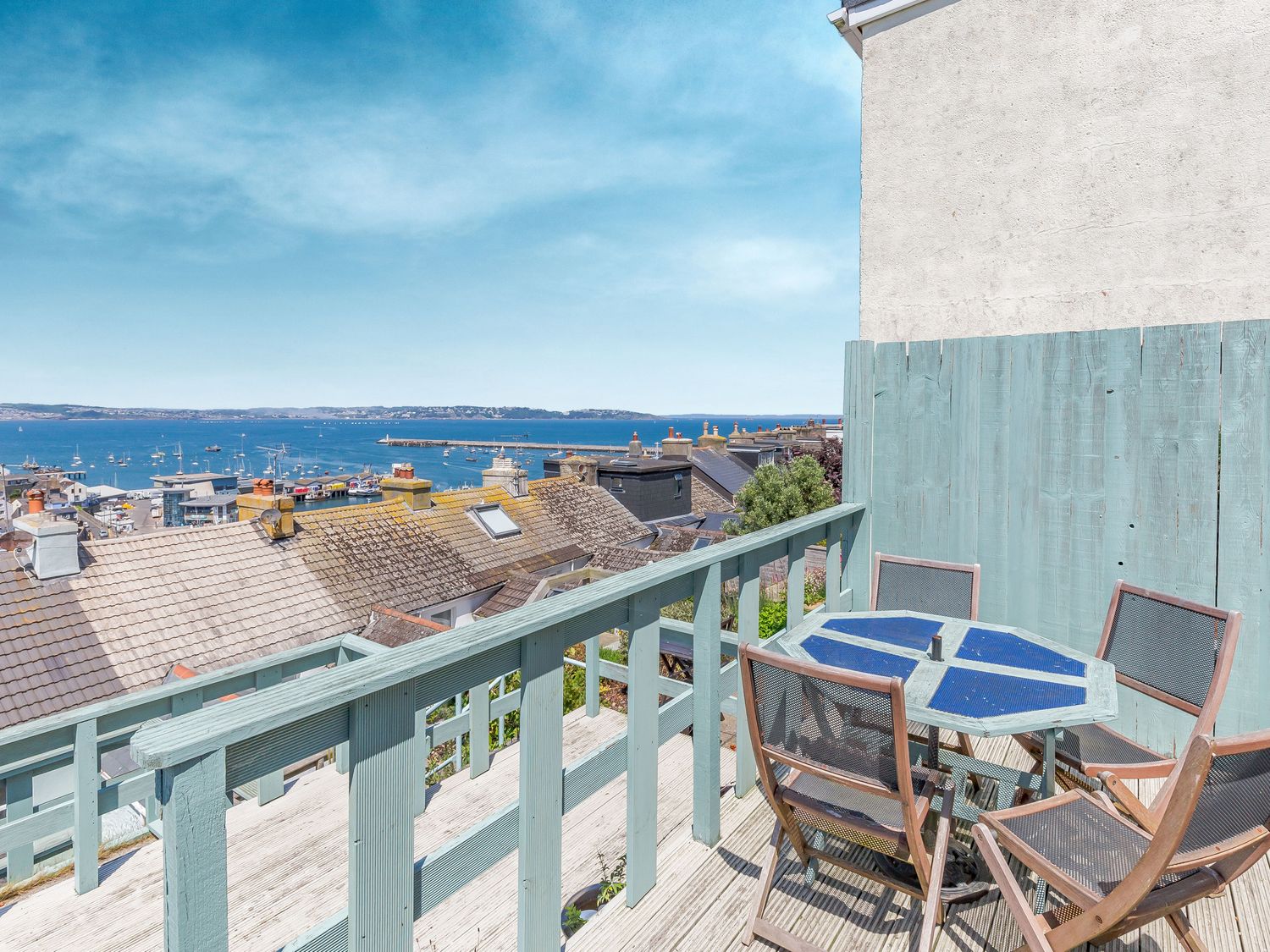 If you are looking for a hidden gem, then Bay View is a perfect choice. This cottage is located in a quiet area of Brixham and offers stunning views of the harbour and sea. It has been beautifully decorated and is equipped with all the modern amenities that visitors need for a comfortable stay. If you're bringing nan with you, she'll be contented relaxing in the master bedroom and taking in the views without having to walk about!
Another hidden gem is the Blue Cottage which is located in a quieter area of Brixham. It sleeps up to 10 so it is one of Brixham's best cottages for groups! This cottage is perfect for visitors who want to escape the hustle and bustle of the town and enjoy a peaceful and relaxing stay. The cottage offers easy access to the town and harbour and the beautiful countryside and the secluded St Mary's Bay is not far either.
Hideaway Cottage is another cosy nook which has all the traditional features of a Brixham fisherman's cottage. Two people can luxuriate in the sun trap garden that includes a BBQ.
Rounding up
Living or staying in a Fisherman's Cottage is a unique experience that allows visitors to immerse themselves in Brixham's rich maritime history. These cottages are typically small and cosy, with low ceilings, exposed beams, and traditional decor. They offer a glimpse into a bygone era, while still providing all the modern amenities that travellers expect.
Whether you're looking for a romantic getaway or a family holiday, there's a Fisherman's Cottage in Brixham to suit your needs. From charming one-bedroom properties to spacious four-bedroom homes, there's something for everyone. Many of these cottages are located just a stone's throw from the harbour, offering stunning views of the sea and the surrounding coastline.