Let's keep it real. If you want to:
Find out more about the Mrs Crocombe YouTube videos
Meet the amazing Kathy Hipperson who brings Mrs Crocombe to life on your laptop
Learn about the history of Avis Crocombe and Audley End House
Discover Victorian cooking with English Heritage
Try a classic Devonshire recipe prepared in 'The Victorian Way'
Get your hands on cool 'The Victorian Way' merch
Visit Mrs Crocombe at Audley End House
Includes a link to a list of every Mrs Crocombe/The Victorian way video online so far
… you've hit the right page. Here is everything you need to know about Mrs Crocombe, the Delia Smith of Devonshire who's currently keeping the lights on at English Heritage!
How I got hooked on Mrs Crocombe on YouTube
A little known fact about me: I love watching American historical re-enactment channels on YouTube. I also enjoy historical sewing channels (despite having ZERO time to do this). So you can imagine my surprise when the Townsends team in the States received a food parcel from a woman called Mrs Crocombe in Essex, England…
….and sent one back to her
Needless to say, I was intrigued and headed over to the English Heritage YouTube channel to watch more of this personable but very proper English cook in a sprawling country house and estate in Essex. And the rest is history. The only problem now is that I have watched all the Mrs Crocombe videos that have been uploaded so far. While my supply is exhausted, I thought I might as well do a bit of research and share this article with you!
So, just who is Mrs Crocombe?
The better question is who WAS Mrs Crocombe? Mrs Crocombe on YouTube is an English historical reenactment character played by the actress Kathy Hipperson on the English Heritage YouTube channel.
The YouTube Mrs Crocombe is based on Victorian cook Avis Crocombe who was from Martinhoe in North Devon. She died in 1927. Avis Crocombe is notable for being the cook for the 5th Baron Braybrooke, uncommon for a woman in her day. Avis Crocombe worked for the family at Audley End House near Saffron Walden, which is owned by English Heritage today.
About Avis Crocombe
Avis Crocombe was born into a farming family in Martinhoe, Devon in 1839. Little is known of her childhood, but by 13 she was already working in domestic service as a kitchenmaid in the household of John Townshend, Viscount Sydney.
By the 1870s, Crocombe had risen to the rank of cook and housekeeper working at Langley Hall, Norfolk for Thomas Proctor Beauchamp.
In the late 1870s, Avis landed a plum position as the cook to the 5th Baron Braybrooke, whose country seat was Audley End (the location in the YT vids). She is likely to not only have worked at Audley End but also at the family's properties in Upper Brook Street, London and Branksome Towers in Bournemouth. As a woman cook, Avis was probably great value for money as male cooks were far more expensive, with a wage at least double that of a woman.
In 1884, Avis found love and left domestic service, marrying Benjamin Stride, owner of a London lodging house. After his death in 1893, she continued to run the lodging house with her stepdaughter until her death at the age of 88.
The discovery of Mrs Crocombe's cookbook
The character of Mrs Crocombe was researched and revived by the renowned food historian Annie Gray. Working closely with English Heritage, she developed the Mrs Crocombe character furnishing her with Victorian recipes drawn from newspapers, and cookbooks of the era.
Amazingly in 2009, a descendant of Mrs Crocombe's husband, Rober Stride made a chance visit to Audley End. After hearing about Mrs Crocombe, he remembered that her handwritten notebook of recipes was still in the family's possession. He graciously donated the cookbook to English Heritage who integrated her recipes and notes into the reenactments.
Devon recipes from Mrs Crocombe
I was delighted to see that classic Devon saffron buns have been given the Mrs Crocombe treatment. Saffron was cultivated in saffron gardens in Devon for centuries. It also was grown in Saffron Walden, near Audley End House:
There was also a delicious concoction called Devonshire pie, though Mrs Crocombe does not think it has anything to do with Devon:
Who plays Mrs Crocombe?
On the YouTube show, Mrs Crocombe is played by Kathy Hipperson, a specialist historical reenactment actress and educator. Kathy Hipperson has been working in historical acting for many years and has her own drama company the provides reenactments in historic settings around the UK.
Kathy has really nailed this character (including a pleasing Devonshire lilt) and made Mrs Crocombe her own, despite Mrs Crocombe being played by a rotation of at least 8 or 9 actresses in the live events at Audley End House. If you want to learn more about Kathy's take on Mrs Crocombe this great video by the historical seamstress and costumier Bernadette Banner provides some great insights:
Discover authentic recipes by the REAL Mrs Crocombe in the bestseller 'How To Cook The Victorian Way With Mrs Crocombe'
The discovery of Avis Crocombe's notebook in 2009 enriched the historical reenactment efforts at Audley End. The book is an extremely valuable piece of history which provides unique insights into not only Avis' working life, but also the dining habits, fashions and tastes of the Victorian aristocracy.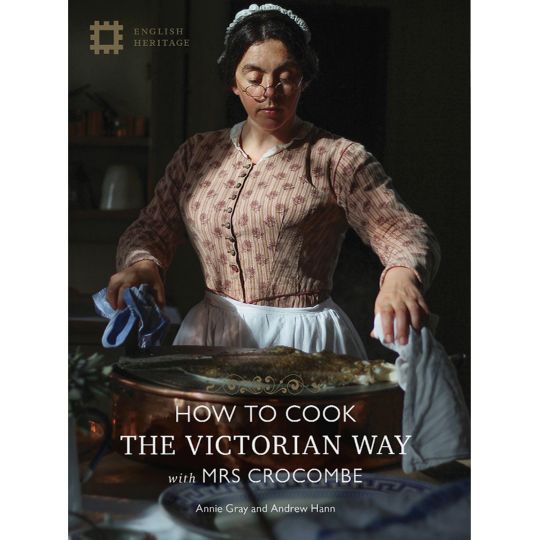 English Heritage has published a beautifully illustrated and bound Mrs Crocombe-themed hardback cookbook by Annie Gray and Andrew Hann. My children watch the channel with me but this book is too classy for peanut butter-dipped fingers!
The 2020 edition of How To Cook The Victorian Way With Mrs Crocombe will fully satisfy anyone who enjoys the Mrs Crocombe Youtube channel or has an interest in English History or the Victorian Era.
How To Cook The Victorian Way With Mrs Crocombe includes
Exquisite photography of The Victorian Way YouTube set and kitchens at Audley End House.
High-definition images from Avis Crocombe's real notebook.
Cool action shots of the YouTube Mrs Crocombe cooking recipes and generally looking lush.
All the great recipes from the channel, Avis Crocombe's notebook, and some new favourites.
That cucumber ice cream recipe is there!
Recipes are perfectly crafted for the modern kitchen with metric and imperial (yes and 'cups' y'all in the States) measurements. Ironically, if you have an Aga, you may struggle 😉
The contents of How To Cook The Victorian Way With Mrs Crocombe by Annie Gray and Andrew Hann
Here are the chapters of this must-buy volume:
Mrs Crocombe: My Great Great Aunt
Introduction
Bringing Mrs Crocombe to Life
Audley End House
Cooking With Mrs Crocombe
Mrs Crocombe's Domain
Victorian Food and Kitchens
Mrs Crocombe and The Staff
Mrs Crocombe's Manuscript
Buy How To Cook The Victorian Way With Mrs Crocombe by Annie Gray and Andrew Hann
You can buy How To Cook The Victorian Way With Mrs Crocombe from the English Heritage website. Buying direct from English Heritage supports the work of this amazing English charity that works to preserve the history and heritage of England.
>>>Click here to go straight to the book so you can treat yourself to a copy<<<
Did you know you can get your hands on official Mrs Crocombe merch?
There is no point in going viral on YouTube if you can't flog some merch! And Mrs Crocombe has been busy creating a collection of items you can buy from English Heritage that is inspired by the series.
>>>Take a look at the Victorian Way Collection by English Heritage<<<
The Victorian Way merchandise would make a thoughtful Mother's Day, Anniversary or Holiday Season gift (**hint hint**). Personally, I think the range needs to be expanded with some Victorian-style aprons, bonnets and Mrs Crocombe's fabulous arm sleeves, but they have made a great start. Here are some of my favourites from The Victorian Way range:
An official 'The Victorian Way' apron in grey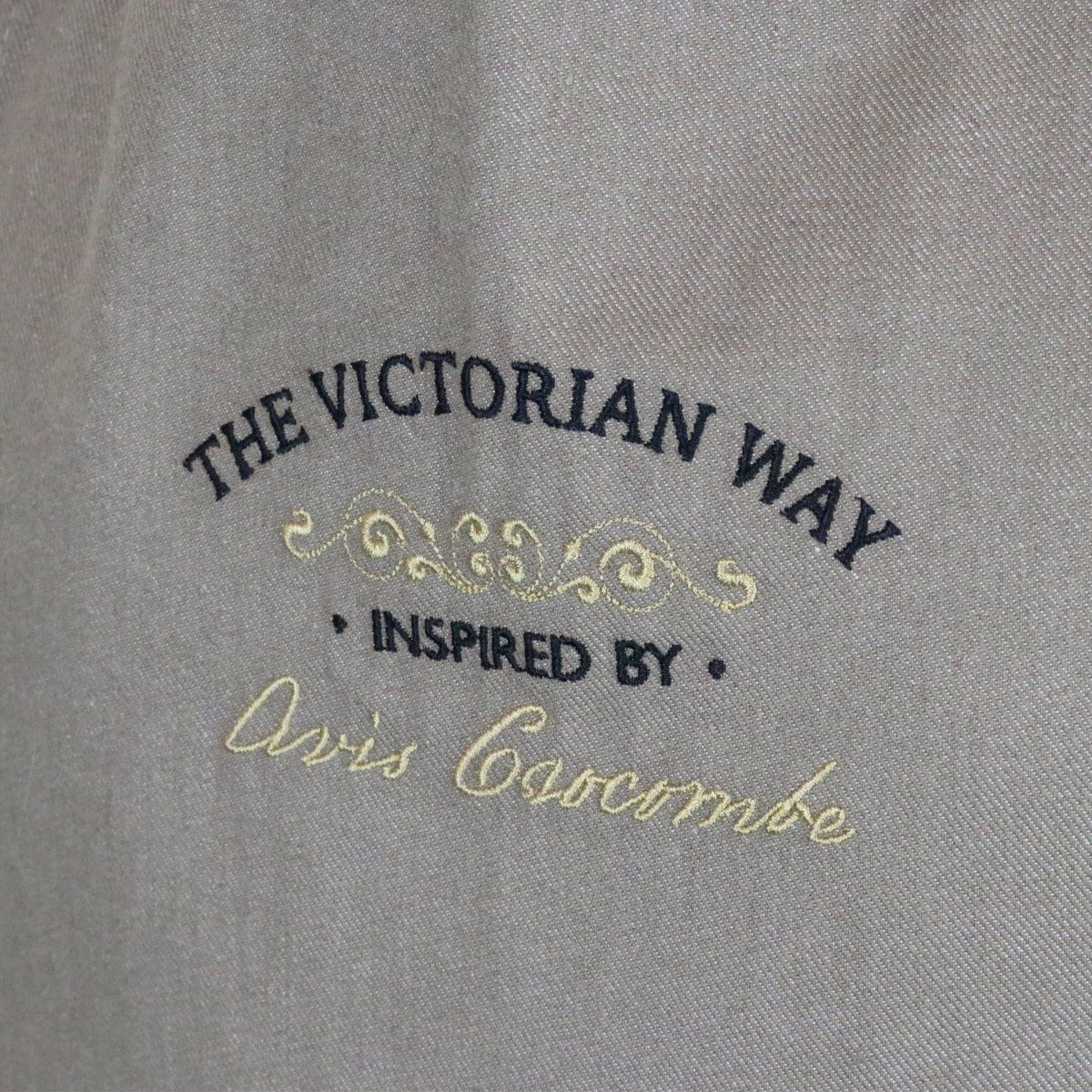 This is a branded cotton apron you can wear while you whip up your modern creations.
>>Buy this apron on the English Heritage website<<
The Victorian Way classic Copper Jam Pan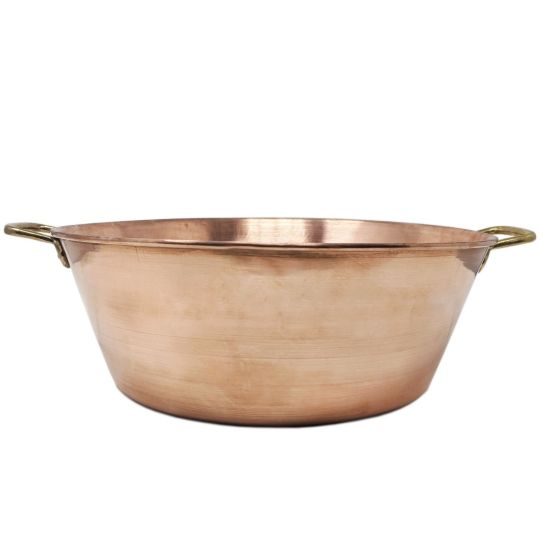 This classic copper jam pan would have worked hard in Mrs Crocombe's kitchen, preserving fresh produce from the bountiful kitchen gardens of Audley End. I think it would make a delightful centrepiece for letting Prosecco chill on ice at your dinner parties or add rustic charm to a farmhouse-style kitchen.
>>Buy this stylish jam pan on the English Heritage website<<
The Victorian Way traditional Enamel Butter Dish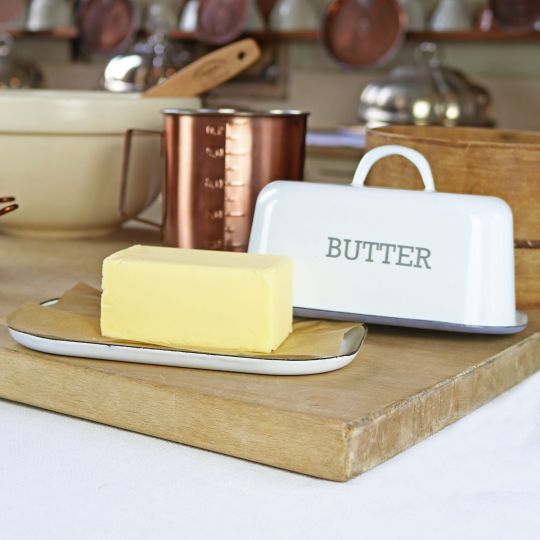 If you're fed up with getting the chisel out to hack off some butter for your toast, why not do things the trad English way and leave your butter out in a butter dish. You can always firm it up in the fridge if you want!
>>Buy this traditional butter dish from English Heritage<<
The Victorian Way Victorian-style Kitchen Scissors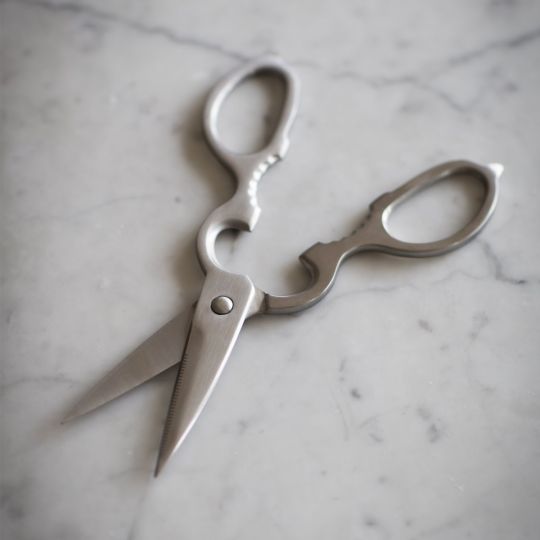 These beautifully crafted kitchen scissors are a must-buy for any household. If you're fed up with pound shop kitchen scissors snapping on bacon grizzle or small bones, this formidable 100% stainless steel pair should last several lifetimes
>>Grab these great kitchen scissors from English Heritage<<
English Heritage ships internationally
You can get these items if you're in the States, Canada or Australia. To save you hassle here are the offshore and international shipping rates from the English Heritage site:
Northern Ireland, Offshore and Scottish Highlands: £14.99
Europe from: £21.00
USA and Canada: from £30.00
Australia and New Zealand: from: £30.00
Rest of the world from: £30.00
Can I visit Audley End House and actually see Mrs Crocombe?
Dreams do come true. Despite her overnight celebrity, Mrs Crocombe is still found in the servant quarters of Audley End House cooking and speaking with visitors to this fantastic English Heritage estate. The YouTube Mrs Crocombe is one of a group of women who play the cook, but if Kathy Hipperson is there, you can see her (in character, of course).
A visit to Audley End House and Gardens is worth it not just for Mrs Crocombe but also for the beautiful grounds and living history in this outstanding English mansion house that is open to the public.
Audley End House, a Grade I listed building was one of England's finest Jacobean houses. It is actually a great deal smaller than it originally was. It has unique architectural features and has been featured in many TV documentaries and historical dramas as well as The Antiques Roadshow.
Here are just some of the great things you can see and experience at Audley End:
Discover the lives of Victorian servants in daily interactive reenactments
Roam acres of Capability Brown-designed parklands
Explore beautiful and productive kitchen gardens that provide produce for Mrs Crocombe's kitchen
Learn about the training of Polish Resistance soldiers at Audley End during the Second World War
Meet the lovely horses of the Audley End stable yard
Play in a real Victorian nursery
Tuck into a delicious menu at the Cart Yard Café while the kids play in the well-equipped play area
>>>Click here to book tickets to see Mrs Crocombe at Audley End House<<<
Mrs Crocombe FAQs
Where can I watch Mrs Crocombe online?
Mrs Crocombe/The Victorian Way videos are featured on the English Heritage YouTube channel
If you want a list of EVERY Mrs Crocombe video, you can read my article: Watch the Victorian Way With Mrs Crocombe, Every Video Listed With Links
How old is Mrs Crocombe?
If she was still alive, the original Mrs Crocombe would be 184 years old.
According to Kathy Hipperson, the Mrs Crocombe character on YouTube is in her forties.
Where is the Victorian way filmed?
The Victorian Way is filmed at Audley End House and Gardens in Saffron Waldren, Essex.
Who lived at Audley End House?
Audley End House was and continues to be the seat of the Barons Braybrooke. English Heritage has stewardship of the property but Richard Ralph Neville, 11th Lord Braybrooke, Baron of Braybrooke and his family retain much of the property.
In conclusion
Mrs Crocombe may well rise to become one of Devon's strongest exports. This lovely gentle channel is really beautifully produced and gives a wonderful peek into England's rich living history!
Affiliate Disclaimer
As an affiliate, I get commissions for qualifying purchases made through links on this website from Amazon and other third parties. Commissions help me keep the wolf away from the door so I can keep giving you great local content. Thank you!