Affiliate Disclaimer
As an affiliate, I get commissions for qualifying purchases made through links on this website from Amazon and other third parties. Commissions help me keep the lights on and wolf away from the door so I can keep giving you great local content. Thank you!
If you are looking for a picture postcard or chocolate box destination for a Great British holiday, there is probably no more beautiful location than the English coastal village of Beer in Devon.
This small but perfectly formed seaside locale, complete with its own fishing fleet is perfect for a weekend away, half-term breaks, or a longer summer stay. In this article, I'll share what to do and where to stay in Beer, Seaton, including places I have visited and stayed at with my family on my visits to this beautiful Devon village.
Beer, Devon is definitely worth visiting
The village of Beer is an excellent destination for travel within and outside of Devon. It is not in Cornwall, so you can save yourself the drive! Beer has a beautifully sheltered position on Lyme Bay and a cove-like shingle beach overshadowed by Beer Head. This destination is perfect for enjoying the very best of the Jurassic Coast.
Though it is close to the seaside towns of Seaton and Sidmouth, this ancient village which has existed since the Domesday book, has a close-knit community and character of its own. The village's fishing fleet still launches off Beer beach and echoes of the traditional livelihoods of quarrying, lace, and cider-making are still evident in the town:
Why is Beer in Devon called Beer?
If the name is making you fancy a pint, I am sorry to disappoint you but the name of Beer in Devon has nothing to do with alcohol. The word 'Beer' is actually derived from the old English or Saxon words 'bearu', 'Bearham', or 'bere' referring to a grove or woodland. You can still get that pint at the Dolphin Hotel or Anchor Inn on Fore Street!
Beer in Devon has several claims to fame
Beer may be a small village with only 1300 residents but it punches above its weight when it comes to the history stakes. Here are some of the things that Beer Devon is famous for:
Beer has a rich smuggling history
Like many Devon rocky coasts and coves, Beer has had its fair share of smuggling. The cove and caves were routinely used to store a range of contraband items. The infamous 19th-century smuggler Jack Rattenbury, author of 'Memoirs of a Smuggler' was born in the village.
Beer ladies produced lace fit for a queen
Beer is renowned for lace making and the Beer Lace ladies have been making world-renowned lace for hundreds of years. In 1839, Mrs. Jane Bidney of Beer and local ladies were commissioned to produce the lace trimmings for Queen Victoria's wedding dress. Over the years generations of Beer lace makers have produced lace for royalty including Princess Mary (Viscountess Lascelles), Queen Elizabeth, the Queen Mother, Princess Marguerita of Yugoslavia, and Prince William.
Beer stone cathedrals
Fine Beer stone has been quarried for centuries, resulting in fascinating caves that you can explore! Beer stone has been used to build some of the UK's finest cathedrals including St Paul's Cathedral, Westminster Abbey, and of course Exeter Cathedral.
The PECO model railway company
A sleepy seaside village is the last place you'd expect to find a world-famous manufacturing company, but Beer has been home to the PECO model railway company, founded by Sydney Pritchard for almost 77 years. The company runs Beer Heights Light Railway and the Pecorama attraction in Beer!
Beautiful scenery, delicious food, and friendly locals
There is no end to things to do in Beer. People are also very chilled and personable, especially if you visit outside of the frenzy of the summer season when the village is packed. If you're in Devon, this town is excellent for a day trip or weekend break from Exeter or further afield. The coastal setting, part of the East Devon Area of Outstanding Natural Beauty, is amazing:
Also, the food and drink in Beer are so fresh and amazing that you will need to hike the hills and cliffs to walk off the weight you'll inevitably gain.
Check out my review of Woozie's in Beer, the best shop for deli provisions, picnics, and absolutely everything in between!
A Review of Woozie's Deli, Beer, Devon
Here is my review of Beer fisheries where I always buy fish for my family (PS. they deliver nationwide!!!!) You must buy and cook this locally caught fish, there is nothing fresher outside of Brixham.
A Review of Beer Fisheries, Beer, Seaton Devon
What To Do and Where To Stay in Beer, Devon
Lyme Bay and the Jurassic Coast are some of the UK's best-loved coastline. Beer has amazing holiday cottages, hotels, and caravan accommodation that is ideal for a coastal break all year round. The standard of accommodation in the town is high, making it popular with families, couples, and singletons who want an alternative to the busier towns of Sidmouth and Seaton. Here are some of my favourites: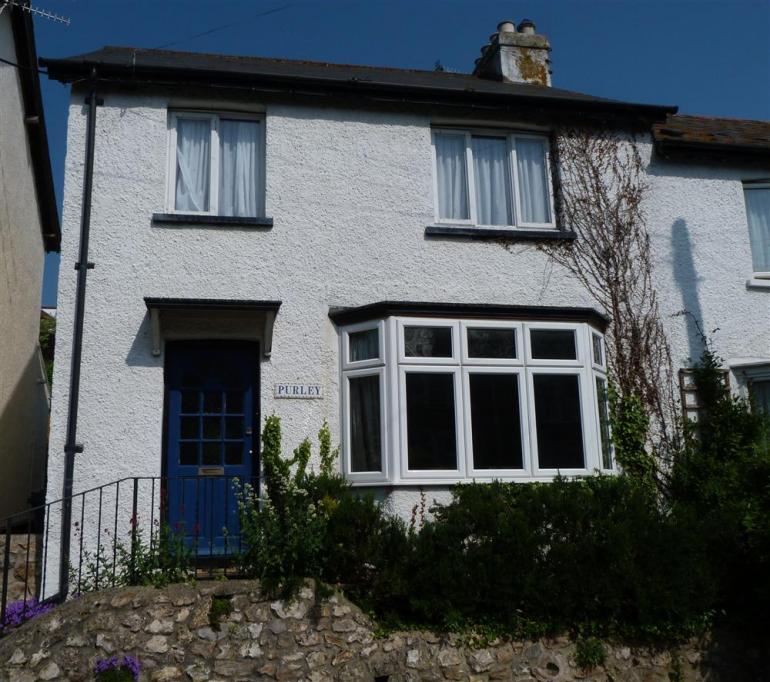 If you are looking for a great value holiday let in Beer, Devon that isn't going to break the bank, Purley is one of the best options. It's a highly spacious child and pet-friendly holiday cottage that is just a few minutes walk from Fore Street and Sea Hill.
You'll find Purdey is spacious and comfortable without the pressure of feeling like you're living in an art gallery. As it sleeps 6 or more, it is more than suitable for a multi-generational Devon holiday.
<<<<TAKE A CLOSER LOOK AT PURLEY COTTAGE IN BEER, DEVON>>>>
Everything you need to know about Purley holiday cottage in Beer
Purley is a 3 bedroom, 2 bathroom semi-detached holiday cottage with an off-road parking bay right in front of the cottage. Inside you'll find a spacious living room with a working fireplace and cozy sofas on the ground floor and a decent kitchen diner with a large farmhouse dining table and 6 chairs.
Pass through the kitchen to an extension area with a sliding patio door which has a fold-down sofa bed. Beyond this room is a bathroom/utility area that has a shower (the best of the showers), toilet, and washing machine.
Upstairs you have a family bathroom (shower pressure is higher downstairs) and three bedrooms with wooden floors. There is a twin room, a master front bedroom with a double bed, and a bunk room.
Outside is a patio garden which is steep and rocky at the far end.
Things to do near Purley cottage in Beer, Devon
If you stay at Purley, you're just moments away from
Fish and Chips at The Beer Fish & Chip Shop
Deli delights at Woozies
A pub lunch at the Anchor Inn
…and of course a lazy day on Beer beach
<<<<BOOK A FAMILY BREAK AT PURLEY COTTAGE IN BEER, DEVON>>>>
<<<<GET LATEST PRICES AND OFFERS FOR PURLEY COTTAGE IN BEER, DEVON>>>>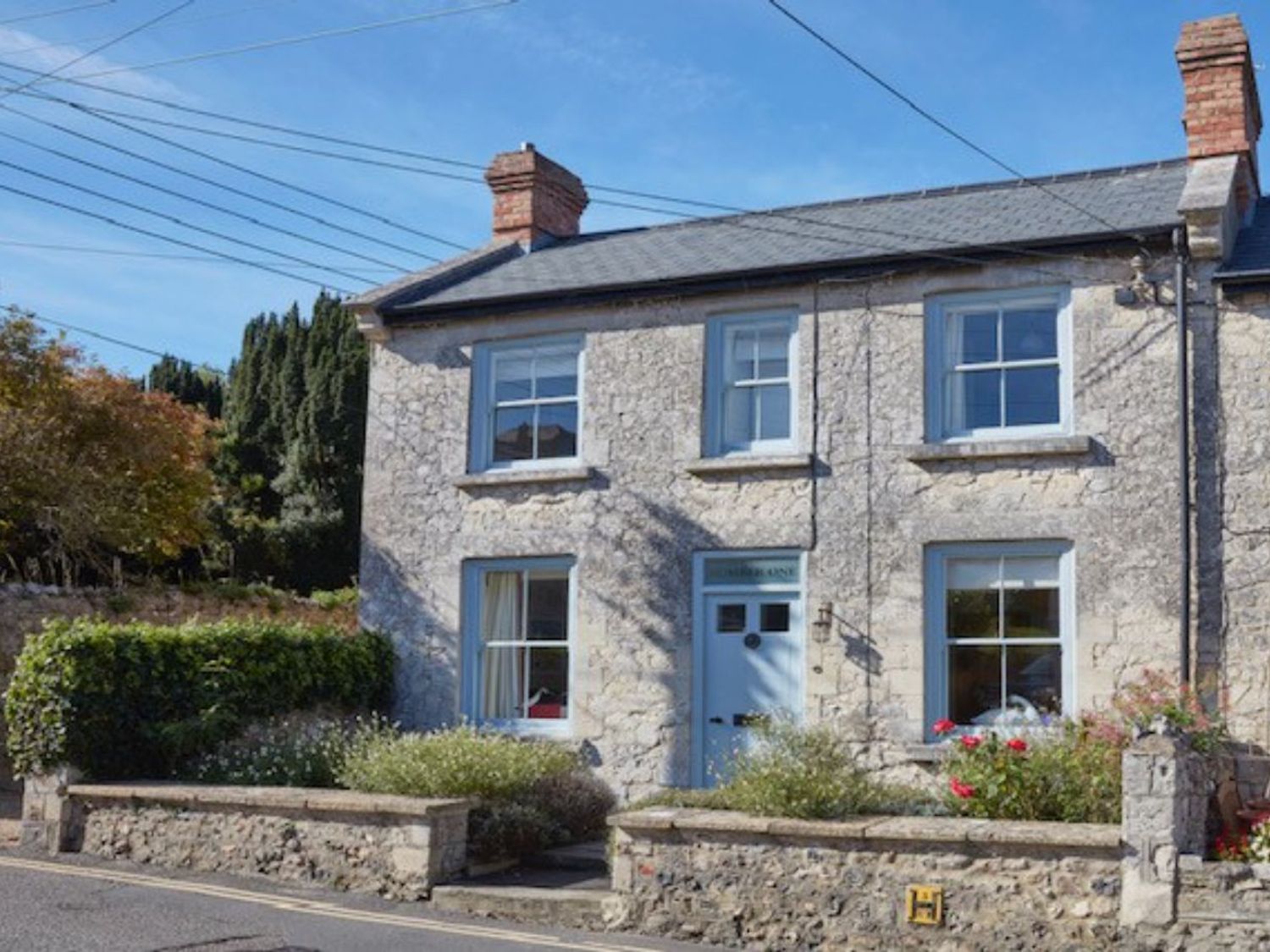 Lavender Cottage is another great family cottage in Beer. This picturesque stone cottage is also on Clapps Lane but further on from Purdey above, just seconds from Fore Street and the sea, and near Beer Church Cemetery, where there are war graves. It offers comfortable accommodation for up to five guests, with front and back gardens where everyone can enjoy the sun!
<<<<TAKE A CLOSER LOOK AT LAVENDER COTTAGE IN BEER, DEVON>>>>
Everything you need to know about Lavender Cottage in Beer
Lavender Cottage is a tastefully furnished and decorated three-bedroom and two-bathroom holiday cottage in Beer. It is very traditional in layout and details and comes with a cozy wood-burning stove that would be ideal for cozy autumn and winter break evenings.
The open-plan living area is perfect for holidays as you can eat and relax together or chill out on the sofa with a book or DVD from the well-stocked selection. We always appreciate a dining table large enough for doing a mega jigsaw puzzle during our stay and out in the private back garden is ideal for a barbecue and al-fresco dining in the summer months.
The farmhouse-style kitchen is well-equipped and easy to navigate for little kitchen helpers. Once you have worn out the kids you can easily pour them into the double and single bedrooms. The master bedroom has a comfortable kingsize bed and everyone's linens are included!
The family bathroom is beautiful and there's no need to queue or argue as a second shower room is available. If you have a busy household, the big bath is very tempting but it's hard to get the time for a proper soak on holiday….
Bung beach towels in the washing machine and air them beautifully in the sea air outside.
Things to do near Lavender Cottage in Beer, Devon
If you hop in the car or are a determined walker, you are a hop, skip, and a jump away from:
Watching fisherman land their early morning catch at Beer beach and perhaps buying some at Beer Fisheries
A stroll up the road to get bread, milk, bacon, and eggs from Beer Village Stores
Nipping over to Seaton to ride the famous Seaton Tramway!
<<<<BOOK YOUR STAY AT LAVENDER COTTAGE IN BEER, DEVON>>>>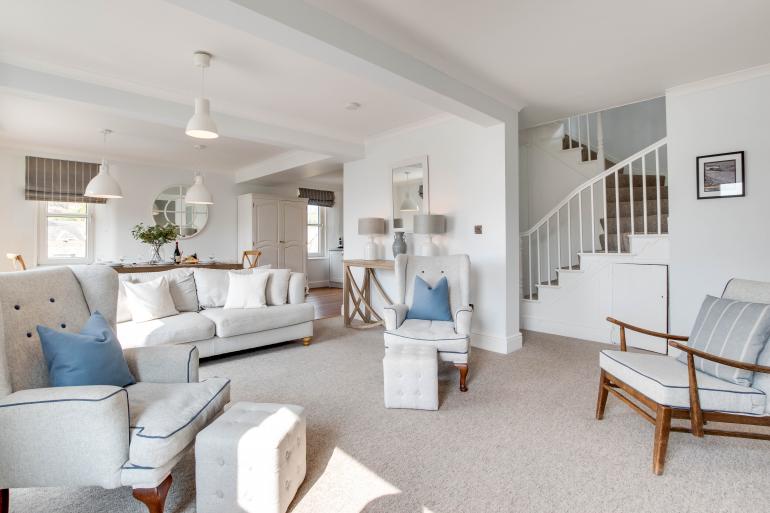 This property is rightly named because its rooftop views across Beer and out to sea are truly commanding! This is an upmarket three-bedroom, two-bathroom apartment that doesn't crimp on the creature comforts. Whoever owns this place gets a tip of the hat from me as they have thought of everything and more!
Admirals View's first and second-floor location keeps you removed from the Fore Street foot traffic that can be insane in the summer months. It sleeps six and a pet too, and with off-road parking included all your boxes are ticked!
<<<<TAKE A CLOSER LOOK AT ADMIRALS VIEW IN BEER, DEVON>>>>
Everything you need to know about Admirals View holiday rental in Beer
Admiral's View is in the heart of Beer, just a second away from the Village Store, Chippie, Deli, Post Office, and fresh crab on the beach. Many visitors sneak off to the massive Tesco but you have everything you need to dine in style on your doorstep.
The apartment is extremely spacious, ideal for a holiday with older children who will want the Wi-Fi code and then disappear until supper. Youngsters can keep themselves amused with the decent games and books library kindly provided by the owner in the open plan living area with a family dining table and bench seating.
The kitchen has everything you could need for preparing a family feast and a Miele dishwasher to throw all those dirty pots, pans, and plates into when you're done. There is also a utility room with a washing machine AND tumble dryer (which is a lifesaver when a toddler is in tow).
Make the most of the outside dining area and perhaps use the supplied BBQ to grill some fresh slabs of Hake from Beer fisheries. The south-facing balcony is also perfect for special moments.
You have the choice of using the large family bathroom with a stylish roll-top and walk-in shower cabinet or the master bedroom ensuite with a power shower! The smart king, twin, and bunk rooms are all clean and beautifully decorated with linens supplied. 
Things to do near Admirals View in Beer, Devon
You are moments away from so many great Beer and Seaton attractions including
<<<<BOOK YOUR STAY AT ADMIRALS VIEW IN BEER, DEVON>>>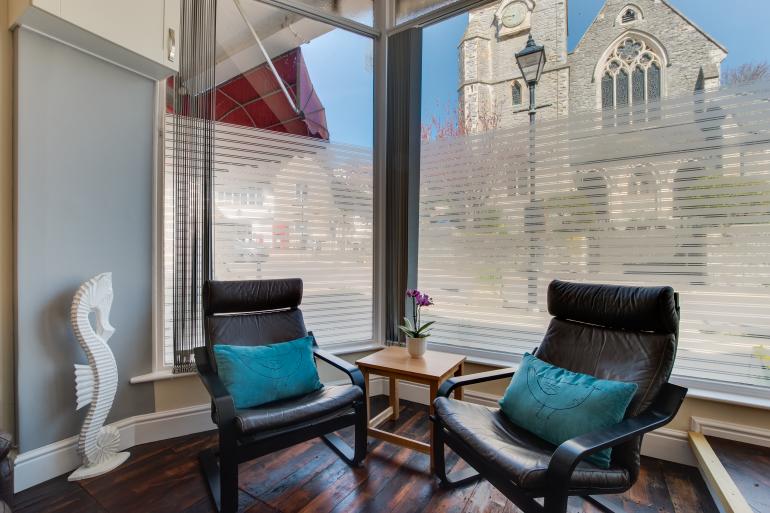 If you love being in the centre of everything, this converted shop on Fore Street in Beer is a perfect match. The Treasure Chest is a smart ground-floor apartment that is next door to Woosies Deli and the chippie and across the road from St Michael's Church.
Mind the bubbling brook running just outside your front door when you head out for the milk and paper in the morning!
Because it is so close to the sea (less than 300m) and the comings and goings of the village, it has a vibrant chalet feel and you'll have absolutely no excuse for not getting down to the beach every day.
<<<<TAKE A CLOSER LOOK AT THE TREASURE CHEST IN BEER, DEVON>>>>
Everything you need to know about The Treasure Chest holiday rental in Beer
This smart little apartment sleeps up to two in a single cozy bedroom with an ensuite shower. It also has an open-plan living space with a high-spec, kitchen for cooking all the goodies from Woozie's or Beer Fisheries.
If you don't want to cook you simply can join the long village queue for the chippie that runs right outside your front door. Dress up and head over to The Dolphin Hotel for some fine fare, or hear some local shanties at the Anchor Inn. You can stay out as late as you want as you are just across the road from literally everything in Beer.
Things to do near The Treasure Chest in Beer, Devon
This little hideaway is perfect for Beer Beach, a stroll to Lookout Bench, or taking in the Bay view at the Jubilee Memorial Grounds.
<<<<BOOK YOUR STAY AT THE TREASURE CHEST IN BEER, DEVON>>>
Where to stay and what to do in Beer, Devon FAQs
Is Beer in Devon or Cornwall?
The village of Beer is in Devon, England.
Is Beer in Devon hilly?
Yes. You can expect some steep inclines as you walk up into the town from the beach up Sea Hill. You also have an upward climb towards Beer Head or if you want to walk along the coastal path on Whitecliff towards Seaton.
Does Beer Devon have a train station?
Beer does not have a mainline train station. If you want to get to Beer by train, the nearest train station is Axminster on the East Devon line (South Western Railway).
Beer does have a model railway station, Much Natter Station on the Beer Heights Light Railway!
Can you swim at Beer beach Devon?
Yes, you can swim at Beer beach. The water at Beer is clean and clear, almost tropical at times. However, the beach does have a shelf that drops off steeply, so don't go too far out if you're not a confident swimmer, and keep a close eye on youngsters. The beach does not have a lifeguard.
How long to walk from Beer to Branscombe?
You can easily walk to the historic East Devon village of Branscombe from Beer. It's a 6-mile round-trip that is ideal for dog walkers. This moderate-intensity walk takes just over an hour each way via the SW coastal path heading west out of Beer. 
How long does it take to walk from Beer to Seaton?
You can walk to Seaton from Beer to Seaton in under 40 minutes. Walk east out of Beer via Fore Street, Chuch Hill, and Long Hill along the B174 and turn onto the Beer Road which will take you straight into Seaton's town centre.
It used to be possible to walk via Whitecliff, but there is a diversion in place due to rock falls and uneven terrain.
Alternatively, you can save your legs and enjoy a scenic bus journey on the 885 bus traveling from Axminster to Seaton which stops at Beer Cross on Fore Street. Here are the bus times for the 885:
How far is Beer from Sidmouth?
Sidmouth is 6 miles from Beer via the coast but 8.5 miles by road. The Sidmouth to Beer coastal walk is popular.
Rounding up
Beer is a great destination, one I return to again and again at any time of year. It has all the ingredients for an outstanding Devon holiday, the sea views, the food, and the cozy cottages and caravans to retreat to after a long day in the sun! My only gripe as a freelancer is the difficulty in finding places for a longer stay as I would love to weigh anchor there for a month or more without going bankrupt!